Sam Barry – Tattoo Artist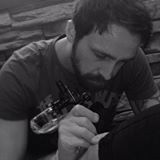 Sam has been tattooing since 2002,  six years of which were with Belfast City Skinworks. Belfast born and bred, Sam is a well known Artist in the city,  with history in various commissions, including some large scale aerosol art style paintings in venues around Northern Ireland including Lavery's bar amongst other places. Sam is a very unique Tattoo Artist, in that he is more than happy to hand draw script in a style that is instantly recognizable as his – no relying on computer generated fonts for this one!
Sam is comfortable and very capable of working in a variety of tattoo styles, with particular strengths in Realism. He uses his skills as a painter to bring a particular softness to this kind of work, likewise with his Portrait tattoos. Sam enjoys working in an Abstract and Graffiti style, again putting his own custom spin on the piece.
Creating unique pieces is very important to him, being very opposed to tattoos being part of a corporate brand, again for him, it is far too personal for that. 'I enjoy the consultation process and brainstorming ideas with my customers, and when they give me that input and let me put my own spin on things we get the best results'.
Sam also enjoys and is known for his Nature work, be it plants or Animals. Again his work is very easily recognizable as his own. A keen painter, Sam holds an extensive portfolio of both tattoos and other mediums and is very keen to push the limits of his abilities.
'I am very happy to call Belfast Tattoo Collective my (working!) home, it is a very chilled space where we can work together with our customers to create the piece best suited to them and to have the right kind of environment conducive to this is very important to us. I enjoy my work very much and would like to thank all of my clients for enabling me to push my abilities even further – come get some!!'
-Sam
Sam's tattoo designs: