Janine Triskele – Tattoo Artist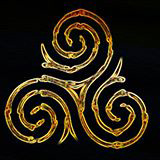 Working in partnership with fellow Belfast Tattoo Collective artists George and Sam, Janine is an experienced tattoo artist, tattooing since 1994. After finishing her apprenticeship in Manchester she traveled around before returning to Ireland and opening her own tattoo shop in Fermanagh which she ran for ten years. During this time Janine won awards for her work in the UK, Ireland and the U.S.A.
Enjoying working in a range of styles, she particularly enjoys Celtic work and the challenge of cover-ups. Working over scar tissue is another area she has experience in.
Primarily working in Colour, Janine enjoys tattooing nature based designs, be they animal, mineral or vegetable!! and floral themed pieces. As with the other Belfast Tattoo Collective Artists, Janine enjoys that Artist and Customer get to be very involved with the creation of each piece and using an organic approach to developing unique tattoos that best reflect the personality of each customer.
Other styles she enjoys working in,  are Art Nouveau, Abstract, Mehndi and textile patterns, and a lot of things with a Folk Art twist.
Janine is highly experienced and very competent working over scar tissue and is proud to have worked on the scars of many Breast Cancer Survivors.
With a definite feminine slant to her work, this particular tattoo artist is just as happy working on small pieces as on large scale work. Religious imagery and Folk Magic Art also hold great interest for her.
' I am very fortunate to have been tattooing for this amount of time and am very happy to be working alongside the guys here. They are helpful and encouraging, we push each other on and it is  great place to work. Clean, bright, relaxed and with the kettle close by!! I would like to thank all the folks who have had work from me over the years for putting their faith in my abilities'.
-Janine
Janine's  tattoo designs: